Clusters
The CTS program is divided into clusters to provide students, teachers, and administrators with opportunities to create pathways in which students can sample courses of interest or use courses to create focused pathways that lead to specialized skills, external credentials, or further education.
A cluster is a group of CTS courses within an occupational area that represents broad industry commonalities. Clusters in CTS are aligned with the National Occupational Classification (NOC) and function as an organizing tool for the CTS program.
For more information on the NOC, visit the Government of Canada National Occupational Classification website.
Each cluster is comprised of occupational areas that include related courses. Clusters connect learning outcomes specific to the knowledge, skills, and attitudes required for related occupational areas. Clusters are designed to
help students choose curriculum and occupational fields for which they have interest and aptitude


provide a context for selecting courses specific to a pathway


help connect students with exploratory courses of study, allowing students to gain general, transferable skills


help students develop specialized skills and knowledge through pathways


focus teaching and learning by relating similar knowledge, linking shared skills, guiding career exploration, allowing students to make informed career choices, associating common interests and linking education with relevant real-world authentic learning experiences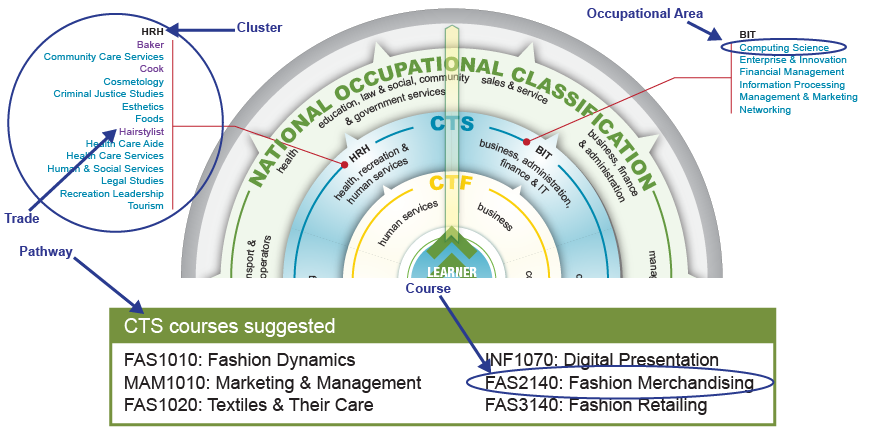 The occupational areas grouped by cluster are:
Apprenticeship
Business, Administration, Finance, & Information Technology (BIT)
Health, Recreation, & Human Services (HRH)
Media, Design, & Communication Arts (MDC)
Natural Resources (NAT)
Trades, Manufacturing, & Transportation (TMT)
Career Transitions (CTR)