Indigenous Pedagogy
Develop an understanding of traditional learning and teaching practices.
---
To begin, select a category from the menu.
Good teaching practices are found across all societies. Indigenous pedagogy has existed since ancient times and has endured and evolved to the present day. Effective pedagogical practices are recognizable across every First Nations, Métis and Inuit cultural group and share many commonalities with current mainstream academia. In many cases, the terms and methods used are alike except for the terminology.
Indigenous Pedagogy:
Simon discusses the week's activities with his student teacher, Nathan.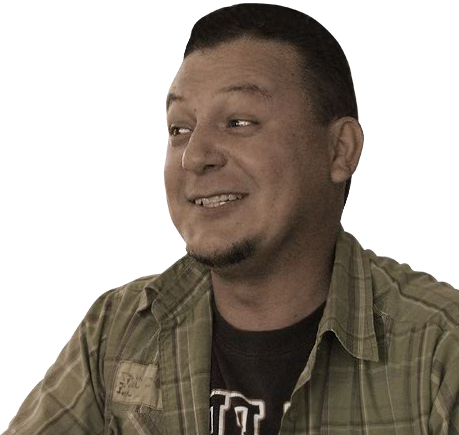 Simon has 20 years of experience teaching at the Métis settlement where he was born and raised. Nathan, an urban Métis from Edmonton, has been co-teaching with Elder John, a trapper and hunter from the community. He is pleased to note similarities between Elder John's methods and the concepts he learned in his university foundations class. Simon explains that as a traditional Knowledge Keeper, Elder John brings authentic experience to the classroom. His way of teaching, known as Indigenous pedagogy, takes many forms but it is based primarily on relationships that respect and include all participants.
Beaded in the floral style, this wild rose is emblematic of our shared Alberta heritage. With delicate buds and oval fruit, the wild rose is used by many First Nations, Métis and Inuit for medicine, food and decoration.
The short video clips on each petal are examples of Indigenous pedagogical approaches.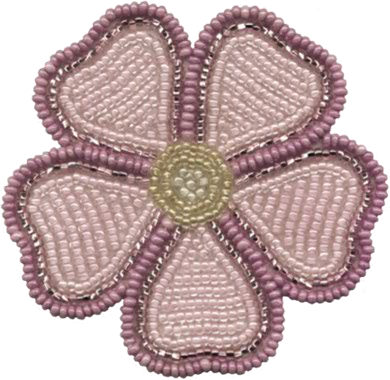 Reflection Statement
The meaningful education of children has an underlying purpose: to transfer knowledge for the preservation of one's culture and society.
Reflecting on the Indigenous pedagogy presented, where do you find similar examples in your own practice?
Preservice teachers and their instructor discuss teaching and learning from Indigenous perspectives.
Elders and Knowledge Keepers in these interviews describe the benefits of holistic and intergenerational ways of knowing that can enrich any learning situation.
Select a video.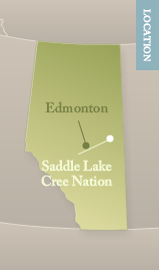 Bernie Makokis | Plains Cree | Saddle Lake First Cree Nation
Bernie Makokis, Saddle Lake First Nation, discusses how imagery in stories helps children learn.
Tina Fox | Nakoda | Wesley Band, Stoney Nakoda Nation
Tina Fox, Nakoda (Stoney) speaker, encourages teachers to learn about Nakoda culture. The first 12 seconds of her interview is in Nakoda, and the remainder is in English.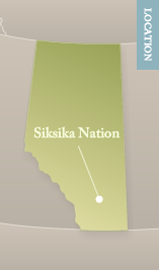 Kathy Yellowhorn-Breaker | Siksika | Siksika Nation
Kathy Yellowhorne-Breaker, Principal of Siksika Reserve School, advises teachers to keep an open mind about accessing traditional knowledge as it can be very helpful to both students and teachers.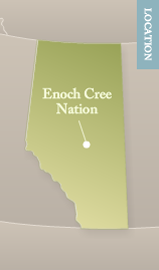 Bob Cardinal | Plains Cree/Nakoda | Enoch Cree Nation
Nakoda/Cree Elder Bob Cardinal talks about building bridges with teachers and employing a holistic approach in order to affect First Nations, Métis and Inuit student success.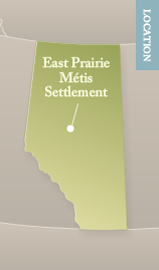 Victor Prinz | Métis | East Prairie Métis settlement
Elder Victor Prinz advocates teaching a child's Indigenous culture and language along with regular curriculum.
While Victor Prinz passed in 2008, we are privileged and honoured to still have his words to share.
Wilton Goodstriker | kainai | Blood Tribe
Elder Wilton Goodstriker explains how the grandparents' role of teaching values creates a bond between the generations in his Kainai First Nation.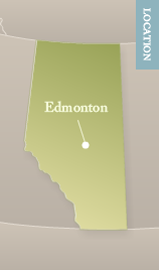 Beyond a Pedagogy of Fort
Dr. Dwayne Donald, Department of Secondary Education, University of Alberta, and four students from a spring session course on Indigenous curriculum and pedagogy meet in September. They discuss teaching and learning from Indigenous perspectives.
Select a resource type from the list.
Select a video from the list.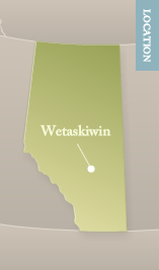 Supporting First Nation, Métis and Inuit Perspectives in the Classroom
Educators in Wetaskiwin School District talk about support for First Nation, Métis and Inuit perspectives in their schools.