Kindergarten–9 Overview
The overview and rationale on the title page for each grade expands upon the grade theme, as do the related topics for each grade. For example, Grade 2 has two topics: 2.1 Canada's Dynamic Communities and 2.2 A Community in the Past. A general outcome (GO) is identified for each topic as are a number of specific outcomes (SO).
For instance, the general outcome for topic 2.2 A Community in the Past is "Students will demonstrate an understanding and appreciation of how a community emerged, and of how the various interactions and cooperation among peoples ensure the continued growth and vitality of the community."

Specific outcomes for each topic are listed in two groups: values and attitudes, and knowledge and understanding.
For example, specific outcome SO 2.2.4 "Students will appreciate how connections to a community contribute to one's identity" is listed under values and attitudes, and specific outcome SO 2.2.7 "Students will examine how the community being studied has changed, by exploring and reflecting upon the following questions for inquiry" is listed under knowledge and understanding.
Each specific outcome listed under knowledge and understanding includes a bulleted list of questions that serve to focus the outcome. For example, one of the questions for SO 2.2.7 is "In what ways has our community changed over time (e.g., changes in transportation, land use)? (CC, TCC)"
In some specific outcomes, examples appear in parentheses at the end of the specific outcome. When the list begins with e.g. (for example), the suggestions are not prescribed. Teachers may select examples from the list or select alternate examples. For example, five suggestions are included in SO1.1.3 Bullet 2: "What helps us to recognize different groups or communities (e.g., landmarks, symbols, colours, logos, clothing)? (CC)." When the list begins with i.e. (that is), the examples are prescribed. For example, four topics are included in SO 6.1.2 Bullet 1: "What is democracy (i.e., justice, equity, freedoms, representation)? (C, PADM)" Teachers are required to cover prescribed topics in the parentheses, but if they choose to do so, they may also take up additional examples.
The specific outcomes for skills and processes provide opportunities for students to apply their learning to relevant situations and to develop, practise and maintain essential skills as their learning evolves within a grade/course or topic, and over time from grade to grade and/or course to course. Nine skills strands appear at each grade level (e.g., S.1 critical thinking and creative thinking, S.2 historical thinking, S.3 geographic thinking).

The issues-focused, inquiry approach in the program of studies presents opportunities to address learning outcomes by engaging students in active inquiry and application of knowledge and critical thinking skills. These skills help students to identify the relevance of an issue by guiding them to develop informed positions and respect the positions of others. This process enables students to question, validate, expand and express their understanding; to challenge their presuppositions; and to construct their own points of view.
Selected outcomes from Alberta Education's Information and Communication Technology (ICT) program of studies are infused throughout the social studies program of studies and are indicated by this symbol

. Further information regarding the ICT program is contained within that program of studies.
(Link: http://www.education.gov.ab.ca/k_12/curriculum/bySubject/ict/)
The six program strands (e.g., CC, TCC) act as content organizers to provide structure for students to acquire the values and attitudes, knowledge and understanding, and skills and processes mandated in the general and specific outcomes. Specific focus strands are identified in parentheses following the specific outcome bullets listed under knowledge and understanding. The six strands are listed at the bottom of most pages of the program of studies (Fig. 2). The strands are also included in the Social Studies Conceptual Framework (Fig. 1).
Figure 1 - Social Studies Conceptual Framework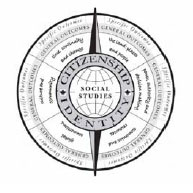 Figure 2 - Program of Studies Strands