Benchmarks, Strategies and Resources for Teachers of English Language Learners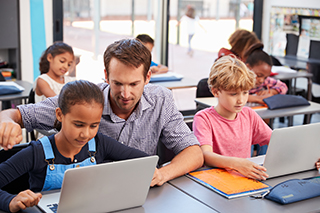 This site is intended for use by teachers, administrators and consultants working with English language learners. This site allows users to:
NEW – The draft Alberta K-12 English as an Additional Language (EAL) Proficiency Benchmarks (Benchmarks 2.0) are a revised and streamlined version of the Alberta K-12 ESL Proficiency Benchmarks and are available for optional implementation for the 2022/2023 school year. Benchmarks 2.0 support teachers in assessing language proficiency, communicating with students and parents, and planning explicit language instruction. View draft EAL Benchmarks 2.0.
We thank you for your interest in supporting education in Alberta and appreciate your feedback on the draft Benchmarks 2.0. Please provide your feedback on Benchmarks 2.0 by using the Feedback button below.
| | | | | |
| --- | --- | --- | --- | --- |
| The ESL Benchmarks are intended to document students progress on language proficiency development over time. Also, ESL Benchmarks support teachers in assessing language proficiency, communicating with students and parents, and planning explicit language instruction. View benchmarks » | | The I Can Statements, which are written in simplified English, allow English language learners to understand their current level of proficiency in English and to work with their teacher to set language learning goals to develop greater language proficiency. View I Can Statements » | | See videos demonstrating the benchmarks at work and teachers gauging language proficiency of students. View videos » |