Print this section
Drawing on current research and best practices, this third part of the three-part resource, Supporting Positive Behaviour in Alberta School, provides information and strategies for providing intensive, individualized support and instruction for the small percentage of students requiring this level of intervention.
This system of individual student support is designed to provide teachers with effective strategies to improve behavioural outcomes for students with behavioural disabilities. The goal of this approach is to facilitate academic achievement and healthy social development of students in a safe, supportive classroom environment.
The following pyramid model illustrates the behavioural issues in a typical student population. Studies show that 80 to 85 percent of students generally meet the school's behavioural expectations. Another 5 to 15 chronically do not meet expectations and are at risk of developing severe behaviour disabilities. One to 7 percent have behaviour difficulties severe enough that they cannot meet behavioural expectations without intensive, individualized interventions.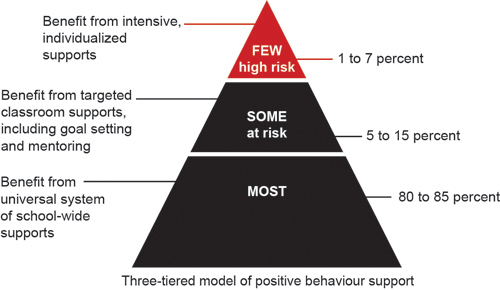 The three tiers of this model represent a continuum of increasingly intense interventions that correspond to the responsiveness of students.
All students will benefit from a universal system of interventions, and for 80 to 85 percent, these supports are sufficient to maintain positive behaviour.
More targeted interventions, such as social skills instruction and behavioural management, will benefit the 5 to 15 percent of students who are at risk of developing serious behaviour problems even when universal supports are provided.
Intensive, individualized supports will benefit the 1 to 7 percent of students who do not respond to universal and/or targeted interventions.
This three-part resource, Supporting Positive Behaviour in Alberta Schools is organized around this model. The three sections deal with:
a universal school-wide approach
a targeted classroom management approach
an intensive, individualized approach.
This resource, Supporting Positive Behaviours in Alberta Schools: An intensive individualized approach, focuses on the top part of the pyramid—those students with behavioural disabilities. School staff may also wish to refer to the other two parts of the resource to create a comprehensive approach to positive behaviour.
Students with behaviour disabilities generally benefit from effective classroom management and a school-wide approach that supports positive behaviour, but their individual needs go further. These students require intensive, individualized supports to prevent problem behaviour, teach new social competencies and respond to aggressive behaviour.
Characteristics of students with behaviour disabilities

Students with behaviour disabilities exhibit chronic and pervasive behaviours that are so maladaptive that they interfere not only with the individual student's learning and safety but also with the learning and safety of other students. Students with behaviour disabilities typically demonstrate several observable maladaptive behaviours, including:
an inability to maintain satisfactory relationships with peers or adults
inappropriate behaviours or feelings under ordinary conditions
difficulty accepting appropriate levels of personal responsibility and accountability
threatening and/or physical aggression toward other people and/or physical destruction of the environment.